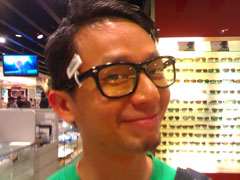 Stanley Huang tickled funny bones aplenty as the 'cockster' in Tak Giu. He also directed, wrote and starred in his own film, Pink Boy. We ask the natural-born comedian about his interests and thoughts on an acting career:
Give us a brief bio of yourself.
I'm currently a Multimedia Video Editor with SPH. I enjoy playing games. But my PC is too sucky to handle any high end games and I don't own any game consoles. Loser hor?
What are some of your favorite films/ actors / plays?
Hot Fuzz. I think the editing is flawless. It's fun to watch too!
I watched Lion King the musical when I was in London two years ago. I thought it was gonna be a kiddy show. But noooo…. Its was fantastic! They had life size animal structures with actors controlling their movements in them. Amazing act.

Tell us about your film Pink Boy.
Pink Boy was a group project when I was doing my BA. I dyed my socks, shoes and clothes pink as we didn't have enough pink props. It was a cost saving measure too!
What are some interesting moments while filming Tak Giu?
I had a hard time doing the grass eating scene. Eat grass leh! The expression of mine during that scene was real. No needa act :S
What did you think of your role in Tak Giu?
The character is slightly like a cockster. I think I have no problem playing a cockster as I'm already one in real life. That must be the reason why Jacen wanted me in the film -_-

What do your friends think about your performance in Pink Boy? Any fans?
They were all excited to see me in Tak Giu and Pink Boy as they didn't know I could act. My friends kept asking me to join Mediacorp -_-
When I won the Fresh Face award at the Canon DVfest, some gals asked if they could have a picture with me. I guess I had a few fans back then, haha.
What about a career in front of the screen (as an actor)?
I just like to have fun in front of the screen. I don't think i wanna make a living out of it.
You seem to be equally comfortable onscreen and behind the screen. Any preference?
Being on screen is physically tiring. Being behind the screen is both physically and mentally tiring. I'm kinda lazy. So maybe I will just go with being just physically tiring onscreen. There's no needa think so much heh.
Lastly, any projects of your own in the pipeline?
Maybe? Still at the 'conceptualizing stage'.
Interviewed by Cyan. Watch Stanley get bullied in Tak Giu and Pink Boy.