Welcome to Hosaywood – Home of Singapore director Jacen Tan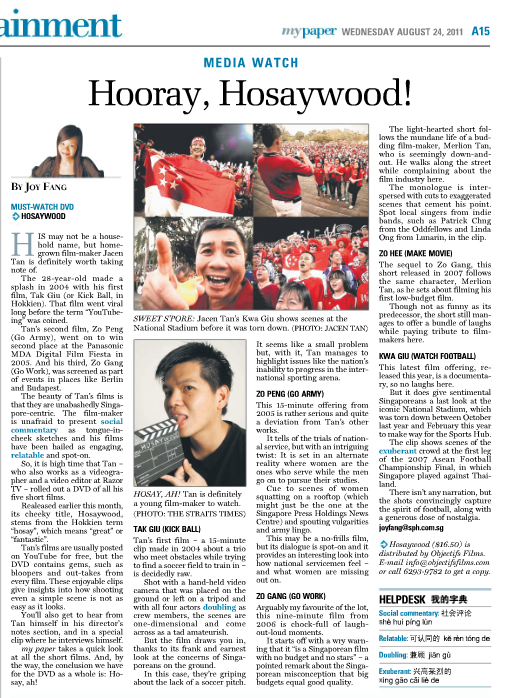 "Singapore's latest film funnyman"
– The Straits Times
Jacen Tan was named by The Straits Times as one of Singapore's most exciting young filmmakers. Popularising the local slang "Hosay" ("great" in Hokkien) has helped Tan stand out as a filmmaker who has embraced being a Singaporean by touching on topics close to the hearts of the people.
Jacen combined his love for horror comedy and his experiences from serving in the army to make his first feature film, Zombiepura. It was released in cinemas in Singapore and South-east Asia, and acquired by Korea's Contents Panda, the producer of Train to Busan.
Jacen got lucky when his first short film, Tak Giu (Kick Ball), gained a cult-following and gathered over 100,000 internet views. Shot with just a camcorder, Tak Giu (a film about lack of playing spaces in Singapore), spread like wild-fire and made waves in the football and online community. Two years after Tak Giu was released, 284 state fields were upgraded and opened for public recreation.
In November 2005, his 2nd film, Zo Peng (Go Army), won 2nd place at the Panasonic/MDA Digital Film Fiesta. Zo Peng is a comedic and alternative take on National Service in Singapore, where ladies serve in the army instead of males.
Jacen also directed a music video for popular Singaporean alternative-rock band, Lunarin. 'Silverpiece' was shot in his living room and traveled to Cannes Music Market.
Zo Gang (Go Work), his 3rd short film about a struggling filmmaker wannabe, has received rave applause from Hougang to Berlin. Zo Hee (Make Movie), the sequel to Zo Gang, was specially commissioned by The Substation Moving Images and premiered in December 2007.
Jacen then premiered his music video for metal band Rudra, 'Hymns from the Blazing Chariot'. This video aims to break all boundaries in the local circuit with green screen visual effects.
His new film Kwa Giu (Watch Football), a documentary about the electrifying atmosphere of the Kallang Roar, was launched together with the Hosaywood DVD, a compilation of his short films. It was filmed during the last full-house match at the National Stadium in Jan 2007.
He also made two films about die-hard football fans, Lions All The Way and Ultramen Johor, and released them online.
In 2015, he was awarded the POSB Storytellers Grant to make Homeground, a love letter to playing spaces in Singapore.
Hosaywood DVD, a collection of Jacen Tan's short films is available now!
Feature films:
Zombiepura – 2018
Short films:
Homeground – 2015
Ultramen Johor – 2014
Lions All The Way – 2013
Kwa Giu (Watch Football/Tribute to National Stadium) – 2011 (Only on DVD)
Zo Hee (Make Movie) – 2007 (Only on DVD)
Zo Gang (Go Work) – 2006
Zo Peng (Go Army) – 2005
Tak Giu (Kick Ball) – 2004
Music videos:
Hymns from the Blazing Chariot, Rudra – 2009
Silverpiece, Lunarin – 2006
Email: jacen(at)hosaywood(dot)com
Join and follow him on Facebook.