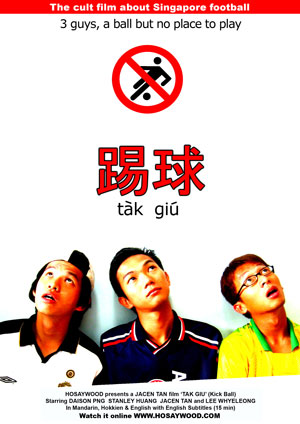 A writeup on SINdie about local filmmakers' first films… reviewing Tak Giu:
" The warning sign of a man kicking football at a void deck is interpreted instead as the prohibition of kicking any ball at a certain angle just as the man is drawn. It's a ludicrous interpretation far from reality, but when this huge gap is bridged towards the ending of the film when the boys find their perfect field with the same sign without its prohibitive red lines, it's a golden and important moment.
We laugh hard at this final happy end, because we hardly expect things to be such…"
Read the full article here. Tak Giu is now available on the Hosaywood DVD.